New year, new influx in multifamily and hospitality in North Texas
New vice president talks market activity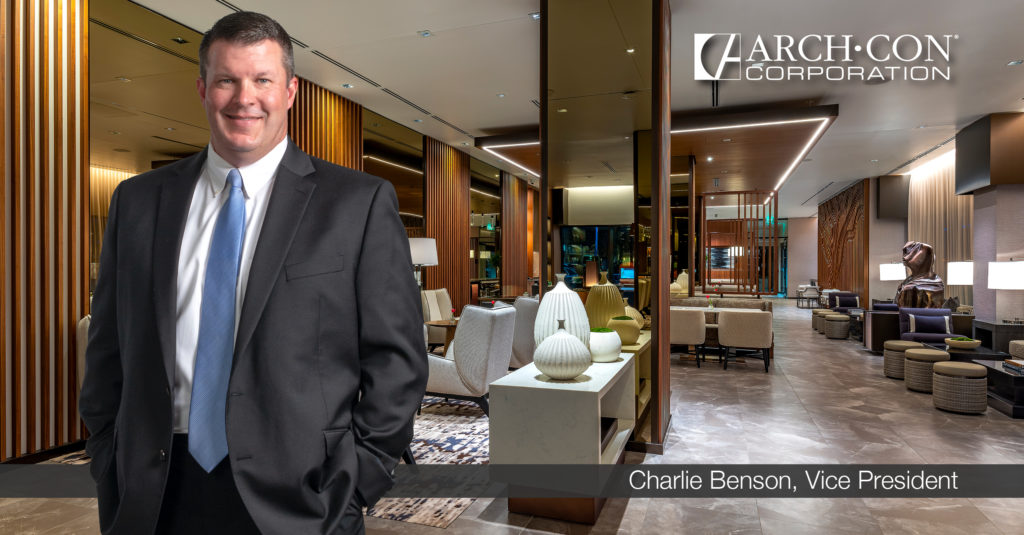 DALLAS (March 4, 2021) – Charlie Benson recently joined Arch-Con® Corporation as vice president serving North Texas. A veteran in multifamily and hospitality construction, he's seeing a healthy uptick in activity.
"Since the first of the year, we've seen an influx of opportunities," Benson said. "Despite COVID and the hit it has taken on the hospitality market, we are bidding projects."
In the hospitality market, Benson is seeing a little bit of everything including dual brands, boutique hotels and historic, adaptive reuse, working on $78 million in proposed hospitality projects.
Benson anticipates the multifamily market will continue to be healthy thanks to the increasing population and is currently working on 1.9 million net rentable square feet (NRSF) of prospective multifamily projects. "We have seen a range of multifamily projects including mixed-use with a grocery anchor component, four-to-five-story wraps and mid-rise projects," Benson said.
With more than 20 years in the construction industry, Benson leads business development, oversees estimating, project management and the successful construction and completion of multifamily and hospitality projects in Arch-Con's Dallas office. Prior to joining Arch-Con, Benson has led the successful construction and completion of more than $200 million in multifamily, more than $150 million in hospitality and $100 million in senior living developments.
"He is not only an expert in multifamily, hospitality and senior living construction, he has a real passion for it," Evan Alford said. "This stems from a career deeply rooting in these construction types. His knowledge is vast, and we are thrilled to have him on our team."
Arch-Con has award winning experience in mixed-use multifamily with Buffalo Heights as well as award winning experience in adaptive reuse projects like the AC Hotel Houston Downtown and the Aloft Houston Downtown.
"Understanding the intricate and often complicated layers that come with mixed-use multifamily projects or converting and adapting properties for their next phase of use is what Arch-Con does so well," Benson said. "And I'm excited to bring my expertise in this type of construction to Arch-Con for North Texas."