Corporate office renovations persist in the era of working from home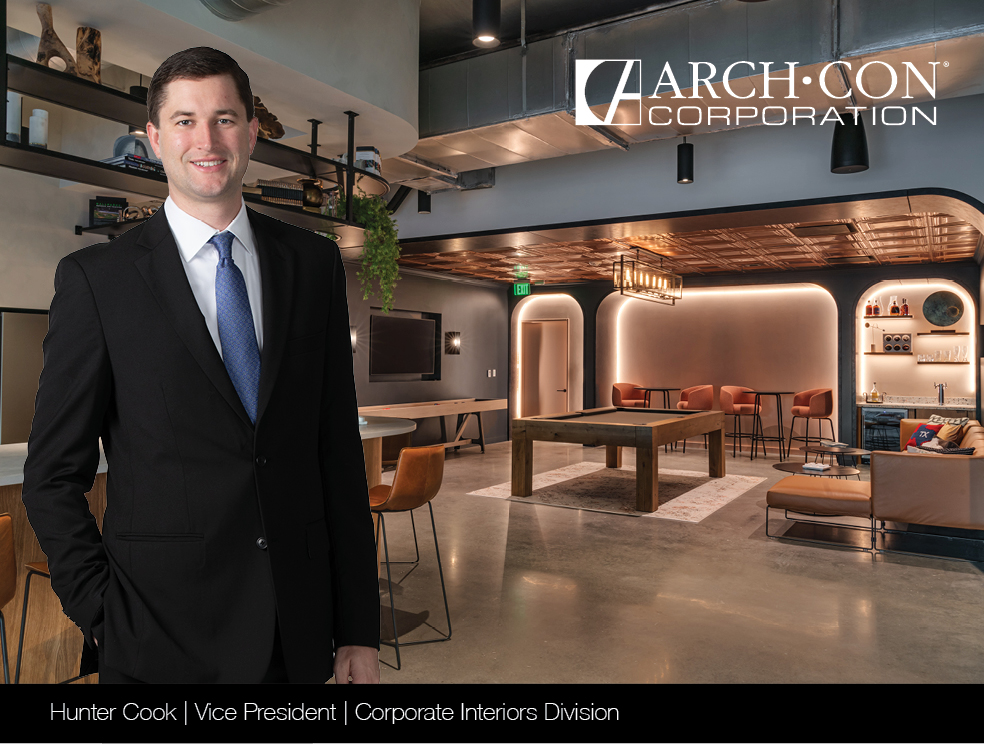 Solutions-oriented vice president to lead Arch-Con's Corporate Interiors Division
Houston (November 29, 2021) – Working from home will continue to be a mainstay for many, but there will always be a need for tenant renovations and capital improvements in office space. Leases expire, work flows change and companies are always adapting to enhance corporate culture. Enter Arch-Con's new Vice President of Corporate Interiors Hunter Cook who has proven to be a consistent partner in making edits to corporate interior office space.
"Hunter is impressive. He is great with clients and architects for the betterment of long-term relationships which can be hard to come by," said Principal Robert Olvera with PDR who has worked with Cook on numerous projects. "He is level-headed and overall a good person."
Cook has nearly a decade of experience in tenant interiors and landlord services having completed more than 100 projects solely focused on corporate interiors. He was newly selected to lead Arch-Con's business development and operations for office interiors projects from concept to completion.
One project example Cook managed this year was for Murphy Oil Corporation when they consolidated operations and moved their headquarters into the Murphy Building at 9805 Katy Freeway in Houston. They originally moved into the building in 2013. This strategic consolidation ushered a need for Cook to manage a 27,000-square-foot, full floor renovation as well as a number of smaller projects in the building including updating Murphy Oil's executive suites.
"Hunter is genuine, trustworthy, cares deeply about his projects and isn't finished until the customer is happy," said Dawn Payne-Cubbage, Sr. Manager of Administrative Services & Facilities for Murphy Oil Corporation. "He notices details on a project before the customer does and corrects them before they can say anything."
Cook's philosophy of working with clients and designers through preliminary design to get the most out of their budget fits well with Arch-Con's construction partner-based philosophy. "Working hard on the front-end with clients to establish realistic budgets and timelines without sacrificing design or design intent brings harmony to projects," Cook said. "Arch-Con provides a great service to the commercial real estate industry and I pride myself on being grounded in this."
As the state of office interiors evolves and adapts to the new normal for now, Cook's passion is to help businesses acclimate to office trends by either reusing, downsizing or expanding space. "Sometimes you just have to walk the site and dig in with the designers and clients to figure it out," Cook said. "Being nimble and responsive while delivering quality is what Arch-Con is known for over the past two decades and I'm so happy to be a part of this great team."
View Arch-Con's Corporate Interiors projects here.