Arch-Con names vice president of Community Division
"From constructing G.I. Joe forts as a child to erecting cast-in-place concrete high-rises as an adult, I've always enjoyed the process of creating."
– Vice President Michael Dovalina, Community Division

HOUSTON (May 27, 2020) – Arch-Con Corporation is pleased to announce Michael Dovalina as vice president of Arch-Con's Community Division. Dovalina has been with Arch-Con for nearly five years and has built $250 million and two million square feet of projects during his career.
William Franks, an expert developer of historic restorations, worked with Dovalina on the Aloft Houston Downtown, a nationally historic and award-winning hotel project. "During that time, I learned of Michael's strong work ethic, his attention to detail, his analytical mind and his adherence to schedule, all while moving the project and team forward on a day-to-day basis."
Dovalina has a passion for designing and building structures. "From constructing G.I. Joe forts as a child to erecting cast-in-place concrete high-rises as an adult," Dovalina said. "I've always enjoyed the process of creating."
Dovolina studied both architecture and construction management at the University of Houston, obtaining a greater understanding of how to take a building from concept to reality. His career experience includes the construction of various building types including medical facilities, lab spaces, schools, restaurants and hotels.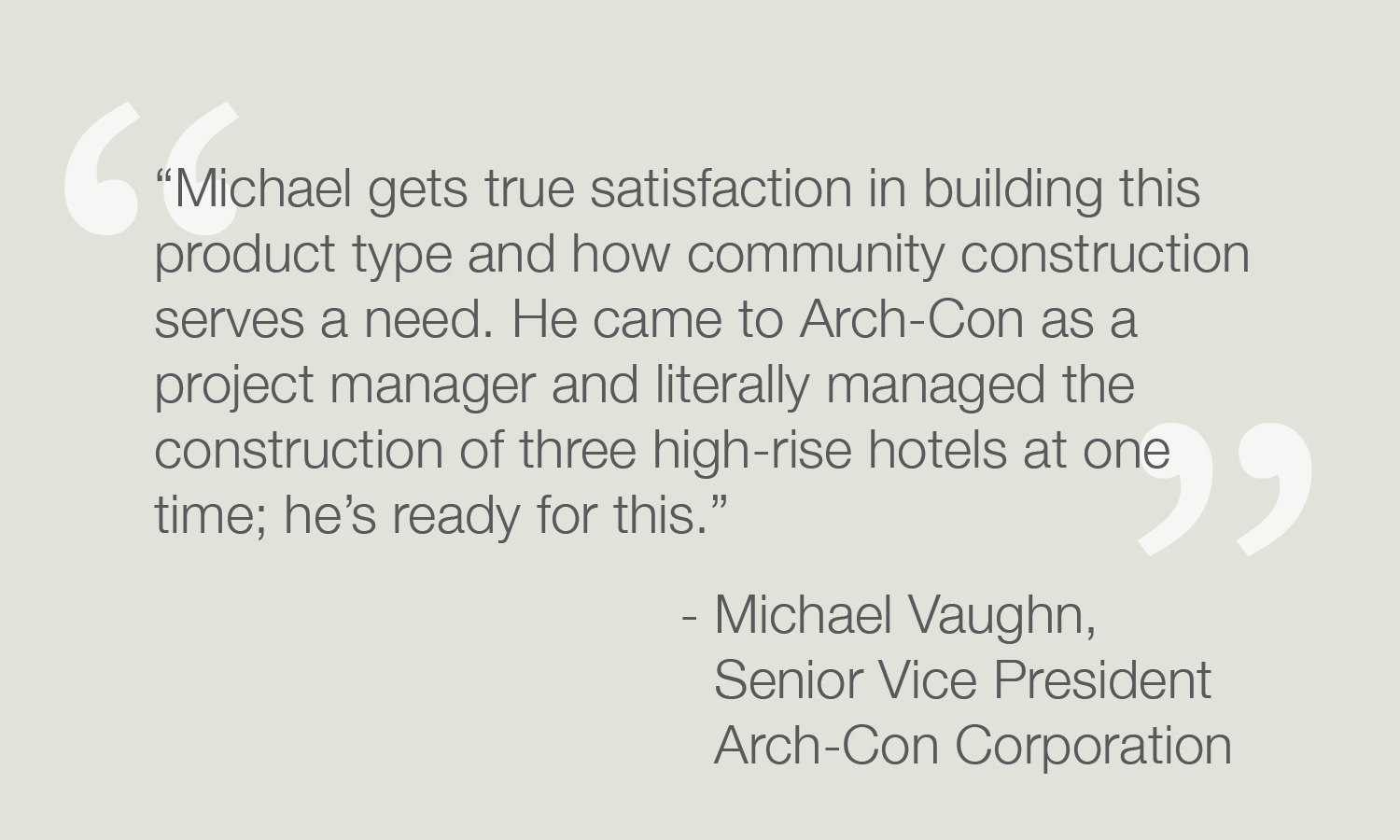 "Michael has the ability to manage the work, listen to multiple opinions and communicate and execute effectively for our clients," Arch-Con's Senior Vice President Michael Vaughn said.
As a lifelong Houstonian, Michael takes great pride in the city and feels a responsibility to not only ensure the quality of the structures he builds but also to support the community in which he lives. "At the core of the construction process are the people," Dovalina says. "The opportunity to build thoughtful architectural structures for passionate clients is what ultimately drives me to be in construction and part of Arch-Con's Community Division."
Early in Dovalina's career, he successfully constructed seven new campuses for YES Prep Public Schools in a four-year time span.
"Michael gets true satisfaction in building this product type and how community construction serves a need," Vaughn said. "He came to Arch-Con as a project manager and literally managed the construction of three high-rise hotels at one time; he's ready for this."
Dovalina echo's this satisfaction, "The most rewarding projects I have worked on are those that embrace the community and add to Houston's diverse cityscape." Click here to learn more about the projects we have built for the good of community.