Construction trends: Where are we headed?
HOUSTON (August 6, 2019) – Our Chief Executive Officer Michael G. Scheurich recently sat on the National and Texas Pricing Trends Panel at the 2019 Aggie Real Estate Network and gave his thoughts on the state of the construction industry and where he sees it heading. Here are some of the key takeaways from his discussion:
How labor affects construction prices 
Scheurich stated that the labor factor is subject to the most amount of change due to two influences: the immigration policy shift and the next generation's lack of interest in construction careers.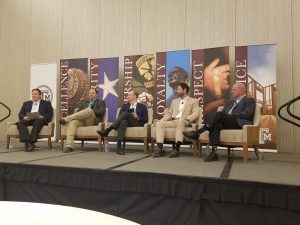 The change in immigration policy has exasperated a problem that was already there: a shortage of quality craftsmen in the industry. The recent tightening of the immigration policy has put a stop to the inflow of immigration that provided labor to the construction industry, which contributes to the higher construction costs.
When it comes to the younger generations, he said there aren't many of them who are interested in a career as an electrician or a plumber. "The labor pool that we have enjoyed and has been economical in Texas is aging out," Scheurich said. "The average plumber is 56-years-old. Who is going to replace these folks?"
Scheurich said current young people want to go to college, be in technology, and head to the coast, Austin or Denver. However, his advice to today's youth isn't to follow the crowd. He recommends to find a scope of work in real estate or construction, such as electrical, carpet installation, etc., and look for a way to change it by putting in the investment and time. Scheurich said there is not a lot of change happening right now and "There is much of doing the same thing the way we did yesterday."
He sees prices continuing to increase until one of two things happen: Demand goes down or technology will take control.
Multifamily: All about the amenities 
On the panel, multifamily projects were mentioned as a hot market in the construction industry. Scheurich says the main trend he sees with multifamily projects is higher rents and the push for more and better amenities. Whether it is an espresso bar in the lobby or a state-of-the-art dog park, most multifamily projects involve offering unique and premium amenities to attract residents. He sees the high rent prices hitting a wall due to the product offering and value not matching up with the raised rent prices.
Texas pride and gateway cities 
When asked about where he would invest in commercial real estate, Scheurich replied "There is no place like home." He believes Texas is a great state and a great place to do business with prices being stable. If you're not going to be in Texas, then you have to be in the gateway cities. And in states like California, there are development and investment opportunities.
Newcomers and larger buildings
He says sophisticated developers and buyers have done well the past four or five years. But what he is seeing more of is newcomers coming into the market who are taking out large tracks of land and putting up multiple buildings, which is something to keep an eye out for. Scheurich says they are less speaking to the market and more speaking to what they can get done.
In Houston, he is seeing larger and bigger building projects. Scheurich said Arch-Con used to build 250 to 350-square-feet buildings and that was a big deal. But today, 10 years later, he is building bigger buildings in the 600 to 800-square-feet range. And instead of just building one building, we are doing five or more at a time on the same property.
Stay tuned
Do you want more news on the state of the construction industry? Keep an eye out for our next update at the end of the year.