How to Build a Church a Month Ahead of Schedule
MISSOURI CITY, TEXAS (May 21, 2019) – The River Pointe Missouri City campus, a 42,756 square foot building, was originally scheduled to open one month after Easter. But Patrick Kelly, senior pastor of River Pointe Church, wanted to have Easter service in the new building. It was crucial the Missouri City congregation be able to celebrate this pivotal day for the Christian faith on the new campus.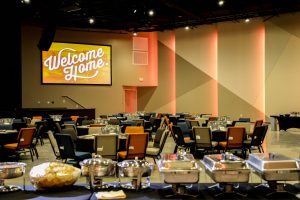 Pastor Kelly approached the Arch-Con team with a challenge: "We have to try to get the building complete by Easter." Arch-Con and subcontractors accepted the challenge to prove themselves.
As promised, the Arch-Con Community Division team pulled together and put in extra hours. "It took a lot of coordination and partnership with everyone on the team, from River Pointe Church staff to subcontractors," said Jessica Thomas, Arch-Con project manager.
The River Pointe Missouri City campus was mostly a tilt-wall construction project, which can often be more cost effective and faster to build, making it a nice fit for community projects. The exterior of the building features a tree-lined manicured lawn, ample parking, plenty of bench seating which includes a fire pit area outside the student section and ivy-covered lattice fences around the building.
The interior of the building is just as detailed with a 750-seat worship area with an acoustic paneled wall, modern light fixtures, mid-century modern furniture, coffee bar, laminate flooring with a mosaic design, kids' check-in area and an entire children's ministry section of the building with sectioned rooms for infants to high school students.
The Arch-Con team, partnering with Studio RED Architects, pulled through and officially completed the building project on April 18, just in time for Easter weekend and ahead of the initial due date.
"Arch-Con doubled the effort and pulled a miracle, which is what I am in the business of doing," said Pastor Kelly during the official ribbon cutting last week.
Pastor Kelly originally had his doubts since that meant changing the project scope. "This was a game changer to be in the building for Easter. It was a herculean effort. I don't know how you did it, but you did," said Pastor Kelly. "It's not just a building. It impacts people and has a lasting, eternal affect that makes a difference in the community."
The Missouri City campus is the third River Pointe Church project (and the largest of the three) we have partnered with Studio RED Architects on. Learn more about the River Pointe Children's Center and West End Church projects.
Learn more about the River Pointe Church Main Campus project.