HOPE Clinic breaks ground on T.T. and W.F. Chao Foundation HOPE Health and Wellness Center
Houston (October 15, 2021) – HOPE Clinic, a community health center providing access to quality healthcare for all people regardless of their ability to pay, is breaking ground on its flagship location the T.T. and W.F. Chao Foundation HOPE Health and Wellness Center at 13930 Bellaire Blvd in Houston. The three-story healthcare facility designed by PhiloWilke Partnership and constructed by Arch-Con® Corporation is on 3.5-acres at the corner of Metro and Bellaire Boulevard. The campus will enable HOPE to meet the increasing need for healthcare services and reduce health disparities among vulnerable populations.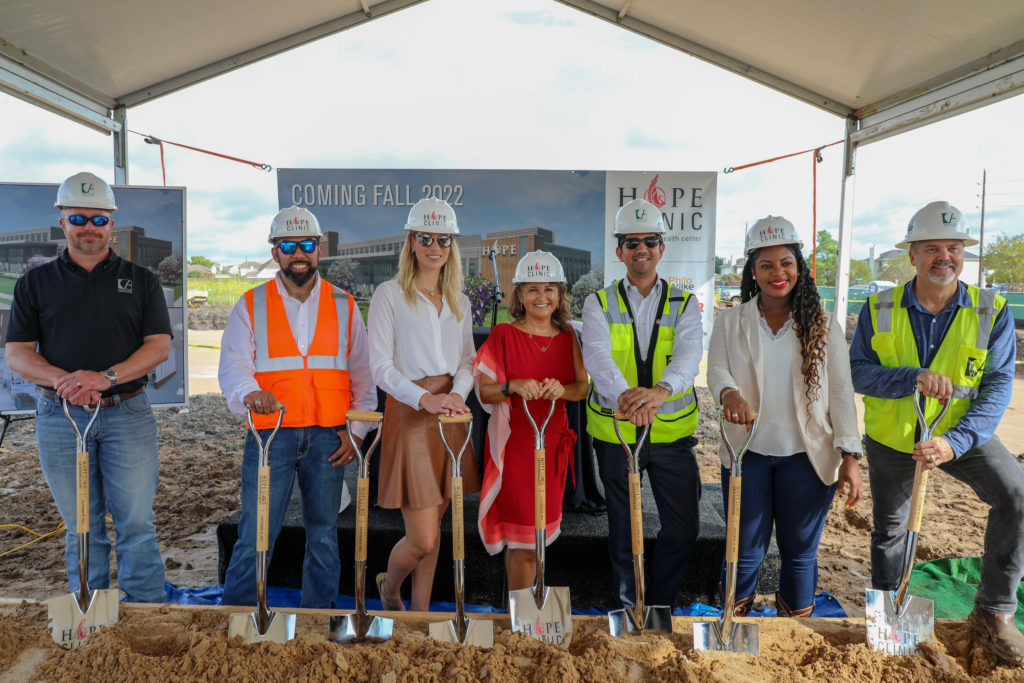 "HOPE Clinic has an urgent need to expand in order to provide healthcare access to more patients and provide state of the art healthcare services," HOPE's Chief Executive Officer Dr. Andrea Caracostis said. "This new campus will allow us to advance care for the patients we serve."
HOPE Clinic's four locations provide more than 155,000 patient visits annually to uninsured, under-insured and low-income individuals in more than 35 languages. With the new 70,000-square-foot facility, they are projected to serve 45,000 total patients and handle 70,000 more visits annually. Services at the new campus will include:
Primary Care Services: Pediatric, OB/GYN, Adult Medicine, Internal Medicine, Dental, Vision, Mental Behavioral Health, pharmacy and radiology.
Specialty care services such as pediatric cardiology and pulmonology
New community gathering spaces, such as an outdoor pavilion, multi-purpose rooms, and café
HOPE Clinic was founded in 2002 to help with this disparity and currently employs nearly 300 healthcare professionals and staff. As the second largest Federal Qualified Health Center in Houston, HOPE has built a reputation for culturally compassionate healthcare located within designated Medically Underserved Areas (MUA). MUAs are geographic areas that lack access to primary care services, providers and have a large population of residents who face economic, cultural or linguistic barriers to healthcare. Harris County contains 19 such MUAs. Most of HOPE locations including the new facility are located in the Alief super neighborhood of Houston known for its large Asian, Middle Eastern, Latin American and African communities.
Funding for the new campus came from key government sources including U.S. Health Resources & Services Administration, Harris County Community Services Department, Texas General Land Office, as well as generous philanthropic support from the T.T. and W.F. Chao Foundation, MD Anderson Foundation, The Brown Foundation, The Cullen Foundation, The Cullen Trust for Health Care, The William Stamps Farish Fund, The Fondren Foundation, The George Foundation, Albert and Ethel Herzstein Charitable Foundation, The Huffington Foundation, LABCORP and The J.E. and L.E. Mabee Foundation. In addition to support from the office of Congressman Al Green.
"The overwhelming community support for quality, affordable healthcare is profound," Dr. Caracostis said. "We would not have been able to achieve this goal without their commitment. It truly gives us hope for building a healthier future for our community."
According to the Census Bureau, the Greater Houston area had the highest number of uninsured residents in the country in 2019 with nearly one in five people lacking health coverage. Health centers, like HOPE Clinic are the backbone of American's health care system.