Arch-Con® Corporation building 17-story Fairfield Inn & Suites in Rainey Street District
AUSTIN (July 26, 2021) – Arch-ConCorporation is underway constructing a 17-story Fairfield Inn & Suites located at 76 East Avenue near Downtown Austin and Interstate 35 in the popular Rainey Street District.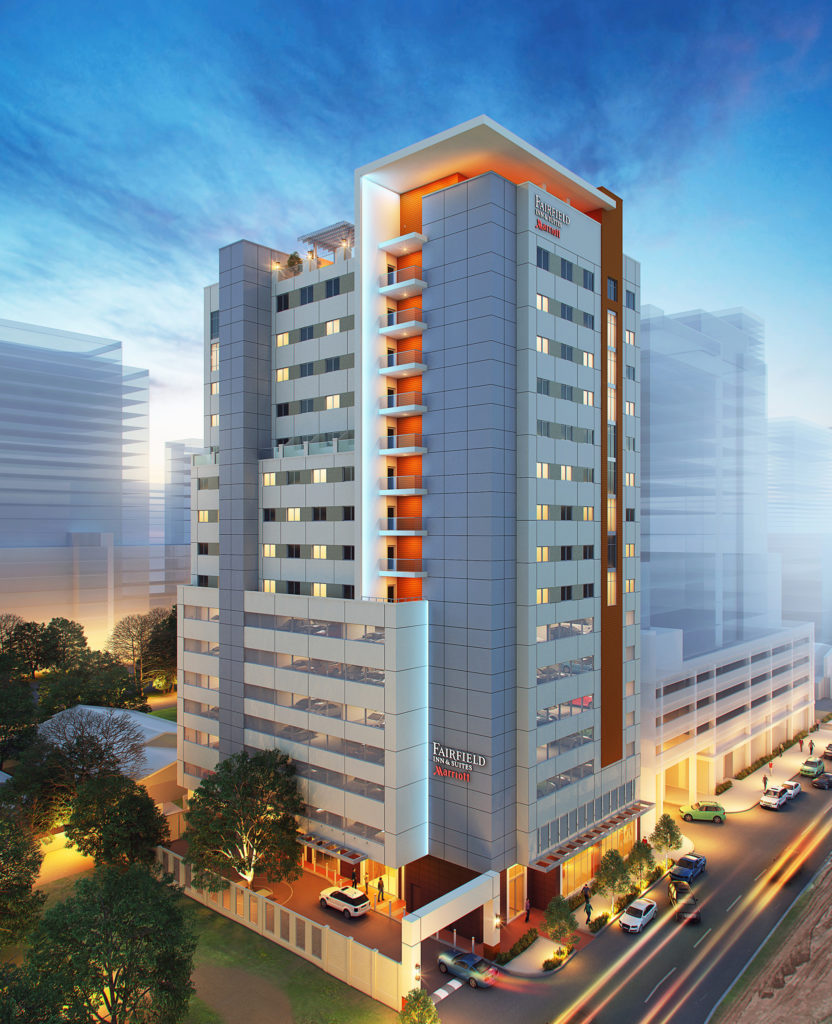 "This isn't your typical Fairfield Inn & Suites," Arch-Con Senior Vice President Marc MacConnell who leads the company's Central Texas Region said. Arch-Con, headquartered in Houston, opened an office in Downtown Austin earlier this year to serve the area's growing market. "This high-rise suite hotel is in a popular, walkable location and will offer views of Downtown Austin, a rooftop terrace and balconies to enjoy the city."
Developed by RGB Hospitality and designed by MCS Architects LLC, The Fairfield Inn & Suites will have 126 rooms and suites and feature a large lobby, lounge, dining area and pantry market for grab-and-go conveniences. The top three floors of the hotel will house an outdoor rooftop terrace, fitness room, pool and spa, multi-purpose room, presidential suite and sweeping views of Austin for an added layer of luxury to this Marriott-brand hotel. Several guest rooms also come equipped with outdoor balconies. Exterior lighting will illuminate the hotel and amenity deck. A six-level, 57,930-square-foot concrete parking garage provides parking for its guests.
The building is constructed of cast-in-place concrete on piers with exterior finishes that include a combination of EIFS, metal paneling and glass. The hotel is on a tight site with the Homewood Suites just 11 inches from the project site line and, therefore, Arch-Con has worked with neighbors and our safety team for optimal laydown and safe construction practices.
Arch-Con has built more than a million square feet of hotel rooms for nearly every major hotel brand. This project will rise in height to 192 feet and use a specific tower crane that will increase from 10-stories to 19-stories as the building height progresses. "This type of crane that stacks itself, or rises in height, is simply more economical and practical due to the tight site," MacConnell said.
A focal point for the high-rise hotel juxtaposing the bungalow bars and restaurants that line Rainey Street is a mature, majestic tree on the property of which the entire project team as well as an arborist are taking great care and attention. The tree will frame the entrance of the hotel in keeping with the charm of the area.
The Fairfield Inn & Suites plans to open late 2022, increasing the walkable hotel options for Austin and this vibrant neighborhood.