Unique SpringHill Suites in Fort Worth Stockyards offers celebrity cuisine, city views and cowtown hospitality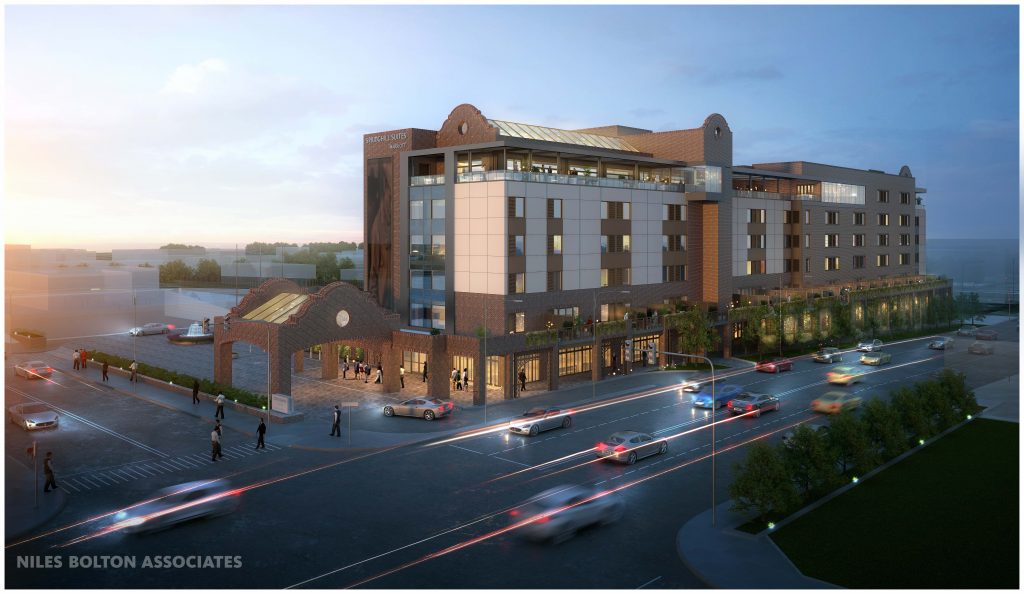 DALLAS, TX (January 16, 2018) – There will soon be a new hotel in the historic Fort Worth Stockyards. Oldham Goodwin Group, LLC announces their development of a new, one-of-a-kind SpringHill Suites in collaboration with Texas-based general contractor Arch-Con Construction, Atlanta-based architect Niles Bolton Associates, and Dallas-based interior design firm Studio 11 Design.
"This is not your typical SpringHill Suites," said Hunter Goodwin, President and COO of Oldham Goodwin Group. "We have customized the design to fit with the look and feel of the Stockyards, as well as incorporated many full-service concepts into our offered programming. The hotel will offer guests the opportunity to experience all that the Stockyards has to offer, including a skyline view of downtown Fort Worth and five-star cuisine."
The 170-room, 133,000-square-foot hotel will feature a rooftop bar and restaurant by celebrity chef and Texas native Tim Love, who is best known for his signature "Urban Western" cuisine, creating inspired and innovative dishes that have earned critical and popular acclaim. Love is the chef and owner of beloved Texas restaurants – some of which are located within the Fort Worth Stockyards – including Lonesome Dove Western Bistro, Woodshed Smokehouse, Queenie's Steakhouse, Love Shack, and the storied White Elephant Saloon.
"We are excited to have Tim Love on our team," said Goodwin. "He created the culinary culture in the Stockyards and bringing his genius to our hotel rooftop can only further galvanize the Stockyards as a destination to play and stay."
In addition to the restaurant, the top level of the hotel will house a presidential suite and a junior presidential suite. These suites are perfect for wedding parties, special events, or just a weekend getaway. They will offer spectacular views of the city and the Stockyards.
The new hotel will replace the recently-demolished, Wells Fargo bank building known as "the wedge" on North Main Street. It will utilize many historic elements from its past, like the vault door from the bank in the lobby for aesthetics. Much of the interior will reference local materials and sensibilities – large scale, comfortable furniture will be placed throughout for a relaxing and casual atmosphere. Metal details and repurposed materials will create discovery moments that elevate the guests' experience. Technology, while present, will be seamlessly integrated into spaces and furniture for flexibility in the public areas. Accent fabrics and modern artwork selections, such as collage groupings in the pre-function corridors, reference Comanche and Kiowa Nations, contributing to the authenticity of the hotel. Additionally, guestroom headboard wall covering will feature canvas field with metal rivets creating the design of a map of the area.
"Being from this area and spending lots of time patronizing the many establishments that make up this incredible town, we have been incredibly sensitive in capturing the essence of what "staying in the Stockyards" really means." Said Stacy Elliston, Principal of Studio 11 Design. "The area is steeped in history and tradition and we have no intention of disrupting that expectation for the guest. The material, finishes, colors, and details throughout these public spaces can immediately be recognized as those indicative of this history and these traditions – although used in non-literal, non-traditional, and unexpected ways. We are organically infusing what the modern traveler might want to experience and take away from the newest hotel in a historically significant city."
"Arch-Con completed the intricate demolition of the bank building a few months ago," said Michael Vaughn, senior vice president of Arch-Con's Hospitality Division. "And we are excited to move forward with the construction of the hotel that will represent this historic area well."
The hotel also features a covered patio facing Main Street along with a first-floor wine bar, many different conference room options, including outdoor and rooftop meeting spaces, pool, ample parking, and three ballrooms on the first floor for events. You can expect to see the Springhill Suites Fort Worth Stockyards complete in early 2019.