NewcrestImage Begins Adaptive Reuse Of Historic Building In Downtown Houston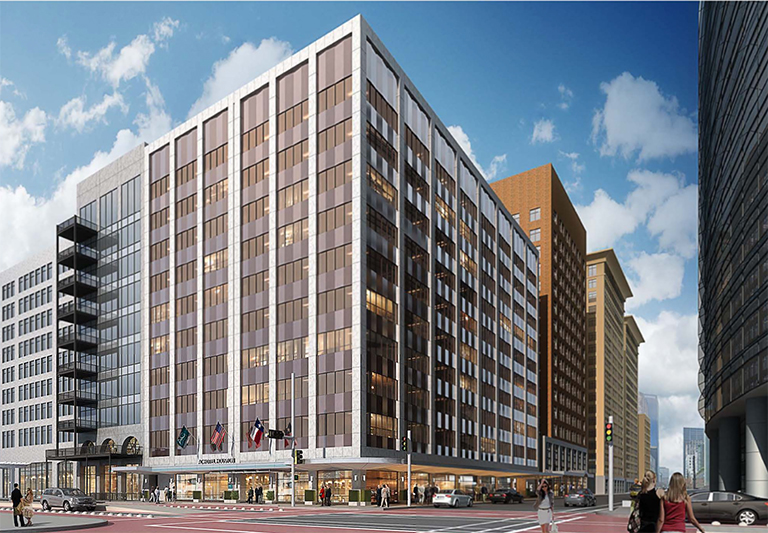 HOUSTON (February 14, 2018) – NewcrestImage has begun transforming a 104-year-old building in downtown Houston into a 195-room, 10-floor AC Hotel by Marriott, with Houston-based Arch-Con Corporation serving as general contractor.  Opening is expected during the summer of 2019.
The property, located at 723 Main Street, will feature a large fitness center; business center; cocktail lounge; and dining area, which will be integrated with the Zoe Theatre, originally opened in 1914 as a silent movie theatre on the building's ground floor.  There will also be approximately 4,000 square feet of meeting and ballroom space with the latest technology for large screen presentations and interactive video calls.
"We are creating bold, modern grandeur in the heart of the city's business district, while respecting the rich historic pedigree of this building," explained Mehul Patel, Chairman and CEO of NewcrestImage.  "Our hotel will symbolize everything the AC brand stands for – vibrant artwork, upscale furnishings, and the latest high-tech amenities all coming together to give guests an elegant, contemporary experience in an urban location."
The AC Hotel's customized interior design and furnishings will reflect minimalistic European-style such as guest rooms with "floating" furniture and public space featuring wood and stone finishes accented by chrome.  Local commissioned artwork throughout the property will complete the sophisticated signature look.
This new property continues NewcrestImage's distinguished history with the AC Hotel brand, notably opening the first AC Hotel in the United States, which occurred in the French Quarter of New Orleans in November of 2014, and opening the first AC Hotel in Texas, which happened in December of 2017 in downtown Dallas.
The building was originally developed in 1914 by Houston entrepreneur Jesse Jones as the headquarters of Gulf Oil.  Since then, it has also been home for the National Bank of Commerce, which became Texas National Bank of Commerce and eventually became part of JP Morgan Chase in 2008.  Most recently, the building served as The Houston Bar Center.
"The building's history reflects where Houston has been and now it will represent where our city is going," added Senior Vice President Michael Vaughn with Arch-Con Corporation.  "It's exciting for our company to both honor the past and bring alive a fresh new purpose for this prime property."
This will be the seventh comprehensive adaptive reuse property for NewcrestImage, which has repeatedly won industry awards and accolades for its innovative make-over of prestigious historic buildings into distinctive upscale hotels.  For example, the company was recognized by the Texas Downtown Association with the "Best Adaptive Reuse" award for its conversion of Amarillo's historic Fisk Building to a 107-room Courtyard by Marriott.
Currently, Dallas-based NewcrestImage owns and operates 25 hotels, with another 10 properties under construction or in development, including historic sites in Cincinnati and New Orleans.  The company has three divisions:  real estate development; construction; and hotel management.
Since 2000, Arch-Con Corporation has shaped the commercial landscape of cities throughout Texas, notably in Dallas and in the company's hometown of Houston.  Its customized design and construction services serve the office, industrial, retail, hospitality, healthcare, civic, and non-profit sectors.