Houston Physicians' Hospital begins expansion to meet patient volume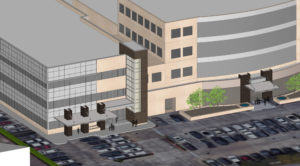 HOUSTON (September 30, 2020) – Arch-Con® Corporation broke ground on a 38,400-square-foot expansion for Houston Physicians' Hospital in the burgeoning area of Southeast Houston located at 333 North Texas Avenue in Webster, Texas.
"Houston Physicians' Hospital is fortunate to serve a growing population and this expansion effort will meet the demand to better serve the region," Heather Womack, CEO of Houston Physicians' Hospital said. "The access to new, advanced technology and equipment will also lead to better care for our patients and attract more surgeons and specialists."
Houston Physician's Hospital provides personal, individualized healthcare with a concierge approach to the communities of Clear Lake, Friendswood, Webster, League City, Galveston and more. Hospital leaders have been working on this three-story addition to the existing 49,000-square-foot hospital for three years, forecasting the hospital's increased patient volume, and working with Heitkamp Swift Architects on the design.
The first-floor expansion will include a kitchen, dining facility, private staff break area, sterile processing and staff meeting room. The second-floor buildout is an expansion of the Surgical Services Department adding 4 brand new spacious operating rooms. The third floor will be used for post-acute recovery and rehabilitation.
"The third floor will focus on expanding programs like our Joint Solutions Center and Spine Solutions Center," Womack said. "These programs need flexible post-acute recovery care and rehabilitation and our patients have come to enjoy our hotel-style patient suites and concierge services. Adding inpatient and overnight observation suites will satisfy the demand and provide an exceptional level of care."
From a construction perspective, the exterior is a glass curtainwall system combined with a lightweight, precast concrete panel system. The front facade features cladding to resemble the quartz stone at the existing entry way. In addition to the expansion, Arch-Con will also be upgrading and renovating the existing hospital's mechanical, electrical and HVAC systems.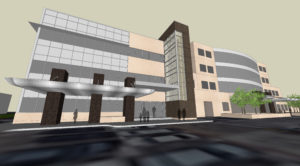 "Throughout the bidding and preconstruction process, Arch-Con has been well-prepared discussing infection prevention standards, safety protocols, and brings vast experience in executing construction projects with minimal interruption to healthcare operations," Womack said. "Their commitment to working as a team with our senior leadership and keeping our patients, doctors, and employees top-of-mind proves to be a good fit."
The expansion will generate approximately 30 additional full-time and part-time hospital staff and is expected to be complete September of 2021. Learn more about our Healthcare Division here.