Full floor office build-out underway in One Buffalo Heights for energy transition start-up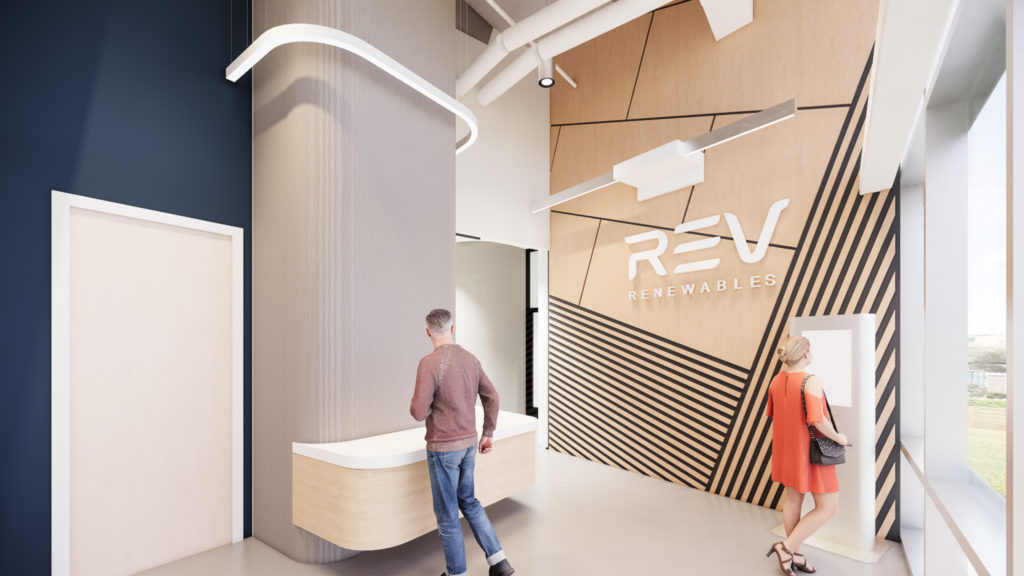 HOUSTON (March 9, 2023) – Arch-Con® Corporation is building out first generation space for renewable energy and storage solutions start-up REV Renewables within One Buffalo Heights, the dedicated office component of the award-winning Buffalo Heights mixed-use development.
REV recognized Buffalo Heights as a central location near attractive live-work-play destinations in Houston. "Buffalo Heights is synonymous with the role REV is playing in the energy transition," said Hunter Cook, Arch-Con's vice president of Corporate Interiors. "There is a vibe of innovation which makes Buffalo Heights the ideal location for their new office."
REV will occupy the entire third floor of One Buffalo Heights, the office component of mixed-use Buffalo Heights. Arch-Con built the award-winning development owned by BKR Memorial, a privately held company of the Russell and Glenda Gordy family. Google's cloud computing arm, Google Cloud, also offices out of One Buffalo Heights, opening their first Houston office on the top floor in 2021.
Brett Blanchard with CBRE represented REV in the transaction. "REV is less than two-years-old, so they were eager to find a space that could help recruit top talent in order to grow a new type of energy company."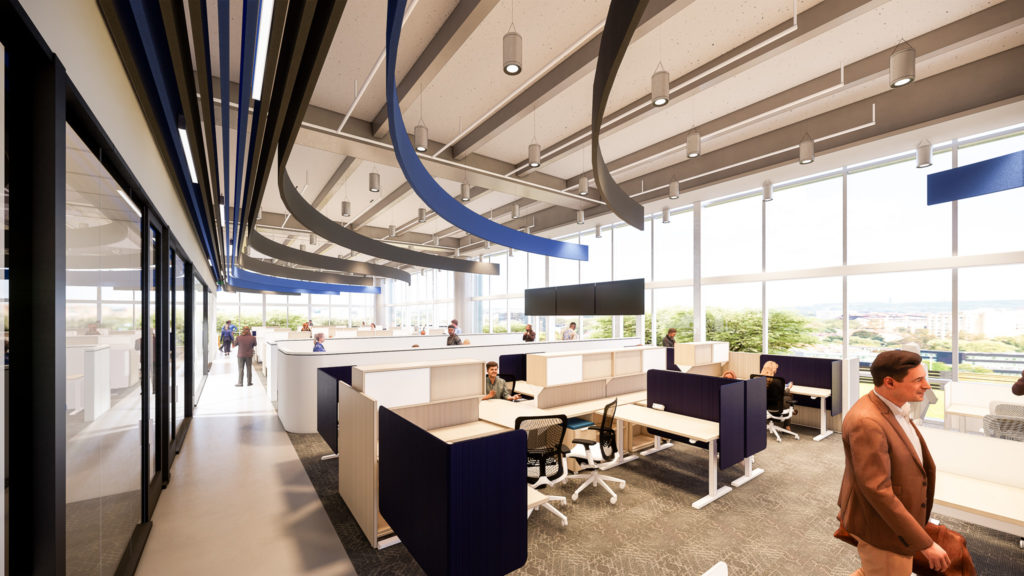 Designed by Bennett Design Group in collaboration with StudioRED Architects, REV's office will feature custom-formed felt baffles that line exposed 20-foot ceilings. This focal point mirrors the firm's emphasis on clean energy flow and was fabricated by Arch-Con, Agile Interiors and the design team to bring REV's clean energy mission to life. The office will also include 48 workstations, a 20-seat boardroom, private offices, conference rooms, traders' area, and wellness room.
Arch-Con is working with REV to curate cutting edge IT and AV solutions to compliment the foreword-thinking design of the space. Exposed ceilings and carefully coordinated MEP accompany a 10-foot tall DIRTT office front created for the enjoyment of end-users and guests alike.
"We worked with Arch-Con to design a space appropriate for a new economy business like ours that conveys a warm and open feel and, at the same time, ushers professional productivity," said Matt Greenway, Vice President at REV Renewables.
REV Renewables was established in 2021 to lead the development, acquisition, and operation of renewable and energy storage assets. They currently have more than 100 full-time employees nationwide with Houston being the largest and newest office presence with 40 employees and growing.
When working with the design team on the space, REV wanted cross-collaboration with their varied disciplines. REV has a flat organizational structure and thrives on collaboration between teammates. Their Houston office is home to many different functions including accounting, energy trading, legal, corporate development, asset operations and human resources, so they needed a space that encouraged interaction between different teams and was conducive to communication – not only on work-related matters, but personal, as well.
"Buffalo Heights provides a central location in Houston which allows us to attract both younger professionals who will bring new ways of thinking as well as seasoned executives and their valuable experience from the conventional energy space," Greenway said. "The neighborhood also has a great blend of restaurants, shops, residential buildings and parks which encourages a better work-life balance for our employees."