Arch-Con® Corporation opens Austin office with new leadership, projects underway
Arch-Con recently opened an office in downtown Austin at 301 Congress Ave., welcomed new leadership with Jeb Brown as vice president to lead and expand the company's multifamily efforts in the Austin and San Antonio markets and is breaking ground on two projects in the area.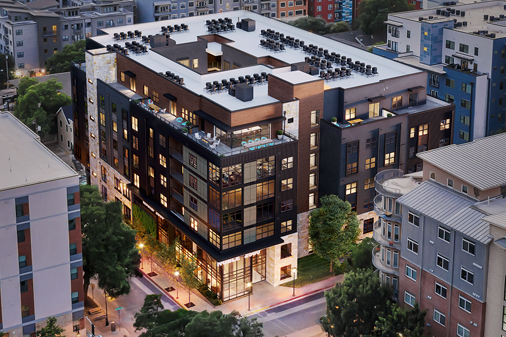 Arch-Con is soon to break ground on a student housing project on the former Chelsea apartments in West Campus near the University of Texas at 2500 San Gabriel Street in Austin, Texas. The 248-bed student housing project is just six blocks from the UT campus.
Arch-Con veteran Marc MacConnell is the company's Central Texas Regional Manager. "I'm excited for Arch-Con's arrival into Austin to bring our forward-thinking commercial real estate methods to the area," MacConnell said. "We thrive on a think-it-through, early-on approach to construction and our clients have come to recognize and appreciate it."
Arch-Con is already active in the area building DD's Discounts in Round Rock, Texas, finishing a Village Medical clinic in Cedar Park, Texas, breaking ground on a 12,400-square-foot retail shell building in San Marcos, Texas, negotiating a 17-story hotel in Austin and bidding an apartment conversion in San Antonio.

Brown has worked on the preconstruction and construction of multi-million-dollar developments across the nation totaling more than $1 billion. With an MBA as well as M.S. in Construction Administration, he is an expert in multifamily projects and thrives on proactive planning and resource allocation to ensure project and pipeline success. Brown also served 10 years for the U.S. Army as a captain and combat engineer.
"I'm happy Arch-Con is establishing a home here in central Texas and I look forward to building not only great multifamily projects but helping build an Arch-Con team in Austin," Brown said.
Celebrating more than 20 years in the commercial construction industry, Arch-Con was founded in Houston and understands the critical need for a hard-working, collaborative mix of employees.
"I've observed the hard work and dedication of Arch-Con's leadership and I'm excited to be a part," Brown said. "They understand that the company is as strong as their performance on any given job and I believe that makes Arch-Con one of the top firms in Texas."