Triten Real Estate Partners tops out first phase of The Mill in Houston's East End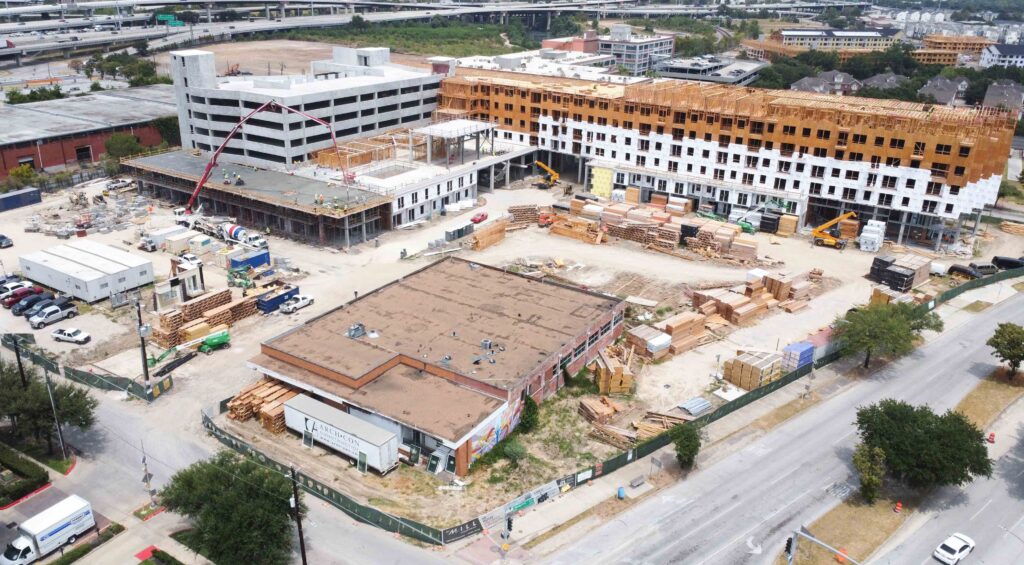 HOUSTON (September 5, 2023) – National real estate investment, development, and operating company Triten Real Estate Partners and general contractor Arch-Con® Corporation celebrate topping out The Mill Phase I, a trendsetting, seven-story multifamily and retail development located at 2315 Navigation Blvd. in Houston's lively East End District.
"Topping out Phase 1 of The Mill is a significant milestone for our collective project team working to revitalize this key entry point to the East End area," said Scott Arnoldy, founder of Triten. "After witnessing the success of M-K-T in The Heights, we look forward to bringing that same type of energy and activity to this once proud and historic site."
Originally Houston's industrial hub, East End has distinguished itself as the cultural and artistic heart of Houston with proximity to downtown. Named after a lumber mill located on the site in the 1890s, The Mill is situated on six acres at the corner of Canal Street and Navigation Boulevard and is poised to bring fresh and modern offerings while honoring the site's industrial history.
Triten enlisted Michael Hsu Office of Architecture, whom the firm previously collaborated with on M-K-T, to design the initial phase of The Mill. At 334,218 square feet, the Class A building will introduce 341 multifamily units and more than 6,000 square feet of diverse retail opportunities within a welcoming, walkable environment. A 145,368-square-foot, seven-story parking garage provides parking on every unit floor and will serve as parking for retail and future phases of The Mill.
The multifamily component will offer one, two and three-bedroom units with varying floor plans and balcony offerings as well as two-story brownstone units within the complex. Tenants will benefit from a third-floor amenity deck inclusive of an outdoor pool, outdoor yoga lawn, exercise room, club lounge, break room with expansive kitchen and outdoor grilling stations and fire pits. Preleasing will begin the first quarter of 2024.
The retail component is located on the first floor with frontage along Navigation Boulevard and visibility from Canal Street and Runnels Street with oversized windows, storefronts, and ceiling heights. Wade Green and Hannah Tosch with Colliers are leading the retail leasing efforts.
The building is constructed of a two-story, cast-in-place concrete podium slab with five stories of wood-frame construction above the podium slab. Integrating storefront windows, metal stud framing and wood framing make for a mix of efficient construction materials. Five different exterior finishes curated by Michael Hsu Office of Architecture will complete The Mill's facade.
"The finishes are going to be beautiful," said Michael Vaughn, senior vice president for Arch-Con. "Attention to detail has been critical for the entire design and construction team. This will be something special and unique to East End and to Houston. We are proud of this project and look forward to opening the first phase next year."