Civitas Capital Group and The Shelter Companies top out coliving multifamily development in Montrose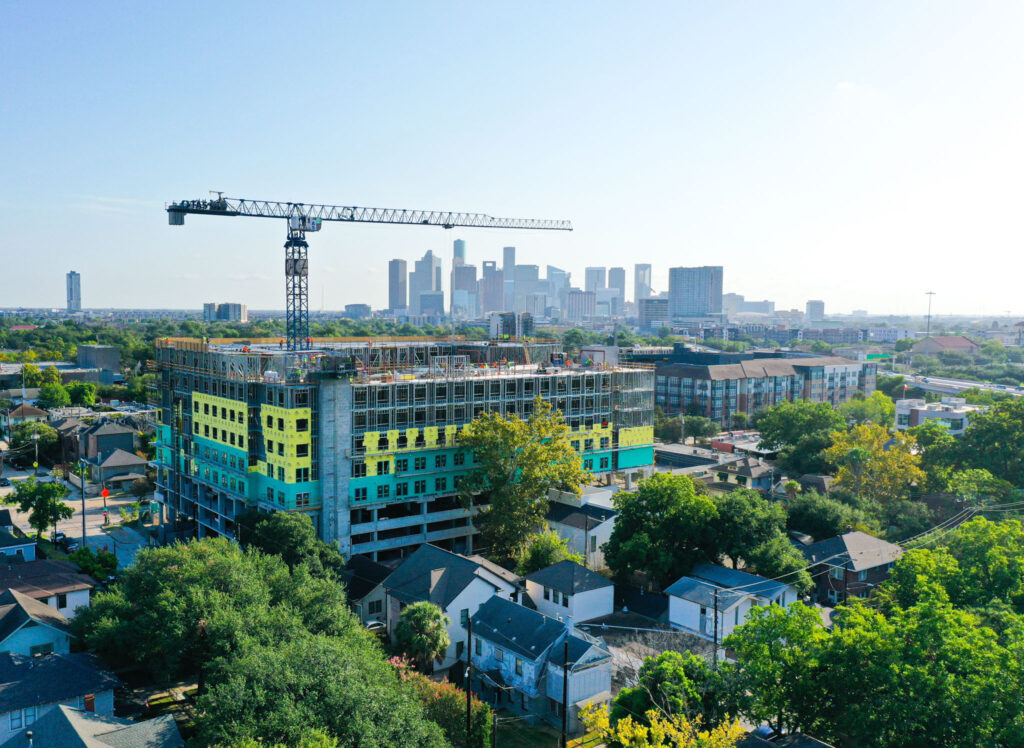 HOUSTON (October 4, 2023) – The trendsetting coliving multifamily project UNITi Montrose is topped out in Houston's Montrose district. The nine-story building developed by Civitas Capital Group's residential development subsidiary The Shelter Companies will soon provide attainable rental housing in one of the most desirable submarkets of Houston. Constructed by general contractor Arch-Con® Corporation, UNITi Montrose will be one of the first coliving developments in Houston, offering 161 private rooms within 48 shared suites. This is in addition to 190 traditional studio, one-, and two-bedroom units.
"Our team has spent more than five years researching and learning about coliving communities across the globe," says Jorge Adler, Civitas' Vice President, Investments. "For coliving concepts to work in the United States, and in Texas specifically, it is essential to find unique locations that are easily accessible by public transportation, within walking distance to a plethora of amenities, and within a short commute to major employment centers."
Located at 701 Richmond Ave., UNITI Montrose is within two miles of the largest medical center in the world, downtown Houston, Rice University, the University of St. Thomas and three miles from the University of Houston.
The Shelter Companies is specifically focused on developing attainable forms of housing. They tapped Common, a leading operator of coliving communities in North America, to be the property manager for UNITi Montrose. Based in New York City, Common currently operates more than 5,000 units in 11 major cities. The average age of a Common renter is 29 and 50% are new to the city in which they live.
"Common was formed around the idea of coliving and has perfected every aspect of operating these types of properties," Adler said. "From the way they market the buildings, to their leasing process, to how they curate community, there is no one better."
UNITi Montrose will be fully furnished with amenities including routine cleaning services, basic household supplies, in-unit laundry, resident events at the property and larger events at the city level. Common will begin preleasing in the second quarter of 2024 and UNITi Montrose is on track to open in the summer of 2024.
UNITi Montrose has 155,901 square feet of multifamily living on a 1.09-acre site. Six floors of multifamily sit on top of a 104,533-square-foot, three-level cast-in-place parking garage. Designed by Meeks Partners, the development includes 10,708 square feet of amenities, balconies, a fourth-floor pool and courtyard, a ninth-floor lounge and roof-top deck with views of downtown, and 3,822 square feet of retail space on the ground floor.