Village Towers, a fast-track neighborhood institution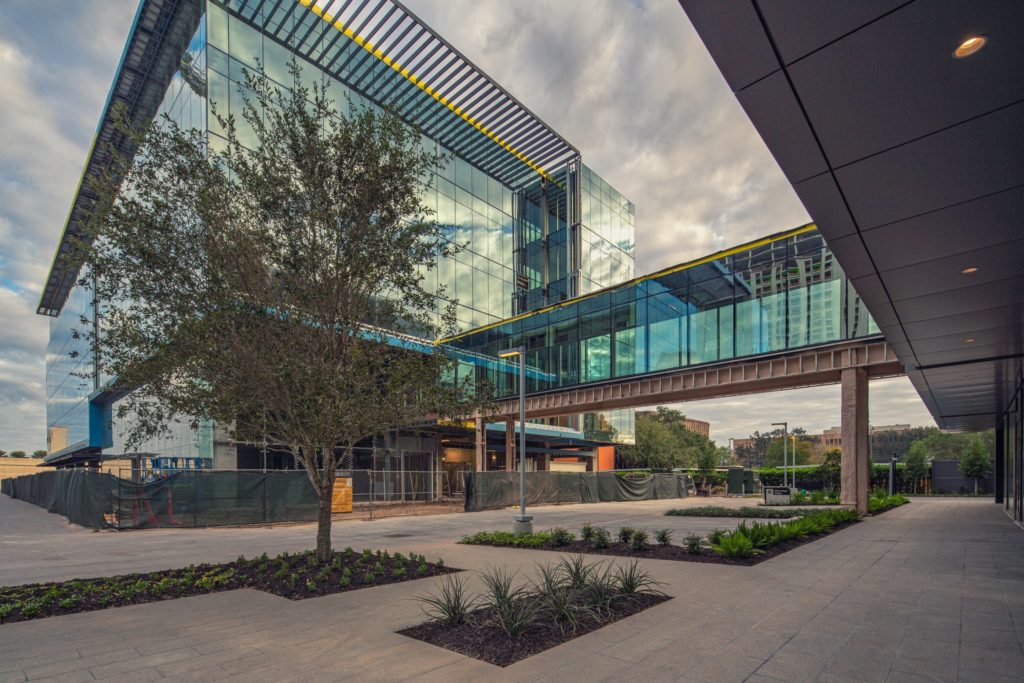 HOUSTON (January 7, 2021) – When Brett Moody, founder of real estate development company Moody National Companies, was walking with his team a few years ago to Whole Foods on Voss, their grab-and-go lunch spot, he was frustrated. That recently built Whole Foods moved a few blocks too far from its previous location which was much closer to their office of 23 years. He used that frustration as an opportunity to dream up a new office location.
"We could purchase that southeast corner property on I-10 and Bunker Hill," Moody remembers saying. When he returned to the office that day, he found that exact property for sale. He bought it as well as the adjacent property, a former Toys"R"Us, and started making the dream a reality. His team decided it was best for the neighborhood to completely renovate the corner property for its tenants, The Village at Bunker Hill apartments, and use the Toys"R"Us property to develop the office.
Developing a mixed-use village
Moody quickly envisioned a high-end office building in The Memorial Villages to cater to people who didn't want to take on the traffic patterns of the Galleria and City Center, let alone Downtown Houston. "The last boutique, truly Class A office building built in Memorial area was in the 1980s," he said. "I really wanted to bring high-end finishes, high-end stone and all of the elegant office features back to this neighborhood."
He brought in global design firm HOK to design and general contractor Arch-Con® Corporation to build Village Towers. This multi-phase, mixed-use project includes two 120,000-square-foot, six-story cast-in-place office towers with retail space on the ground floor. An entire curtainwall of glass wraps around both towers' façade and the interior office lobby walls feature Azul marble sourced directly from Italy. The site is curbless for superb drainage and four-inch-thick granite-infused pavers rather than concrete to upgrade the exterior space.
Moody knew that he needed to pack the site to take advantage of all available space as The Memorial Villages had a six-story height restriction. Even the 420,000-square-foot parking garage, they call The Plaza, was creatively designed to leverage rentable space on the first floor for a myriad of casual, in-demand restaurants.
Quick shift to finish Phase One
Like any construction project, decisions have to be made and challenges have to be solved. The biggest challenge came when it was realized two new office tenants had their previous leases up May 31. Arch-Con started construction on Phase I of the office building on August 15, 2019. This meant they had to close the construction gap by 60 days to make June 1. In the meantime, COVID-19 enters the tightened schedule as well as Houston's notorious rain.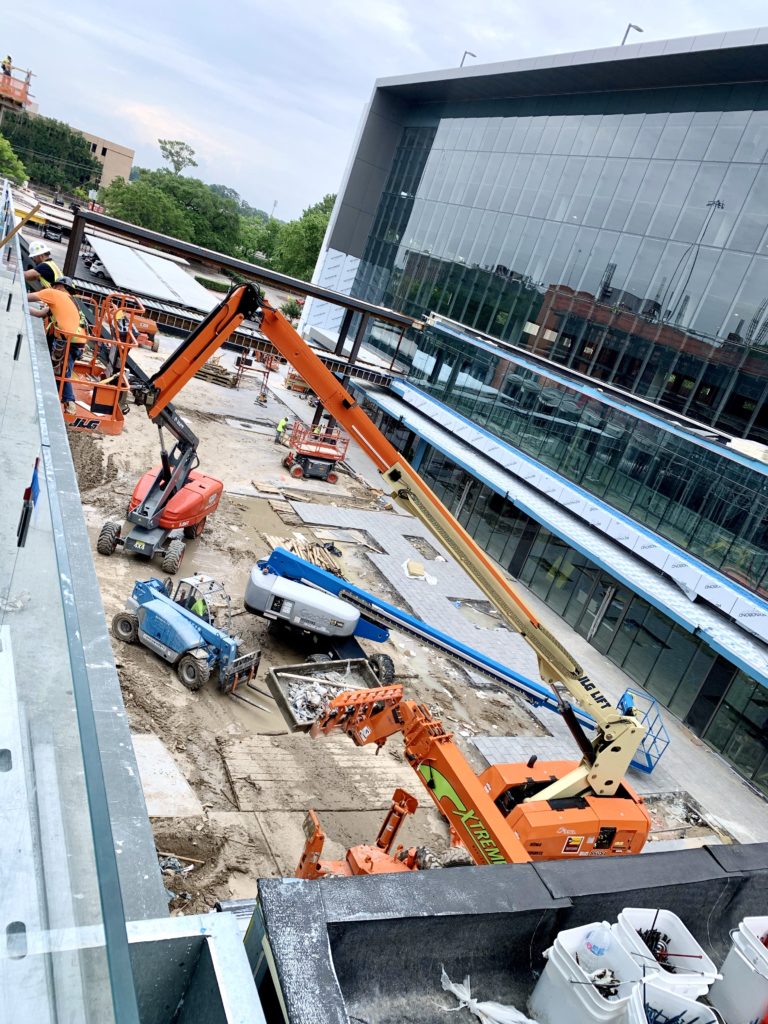 To accomplish this, Arch-Con brought together a team from three different construction divisions, one coming in at the end of the project with a fresh set of eyes. "We performed work out of typical sequence and broke the job down into the more important requirements, like safety and temporary measures to separate construction from the tenant employees," Michael G. Scheurich, chief executive officer of Arch-Con said. "Activities were literally coordinated by the hour."
"Pouring slab to moving in 10 months and three weeks later is one for the record books," Moody said, who is known to visit the construction site daily. "It has been a great experience. Arch-Con has met every challenge with a successful solution; they've always pressed forward."
Joe Froyd, senior superintendent with Arch-Con who was the fresh set of eyes on the project said, "I would spend most of my mornings standing in the middle of all of it like a conductor of a symphony."
Office space has been hard to lease in the city of Houston but Moody has seen positive tenant demand and satisfaction with 100% of Phase I leased. Not only is Moody's headquarters within Phase I, tenants include Prologis, Spur Energy and the headquarters for 2nd.MD.
2nd.MD, the leader in virtual healthcare consultations, was one of the tenants who needed to move into its new space the beginning of June.  "Getting our staff back to the office amid COVID was not easy, but each person who walked into the new space was blown away," Maureen Phillips, General Manager, 2nd.MD said. "They had no idea such a beautiful space was waiting for them." 
A flurry of food institutions
Next up was envisioning dining destinations that not only his team would want to frequent but the entire neighborhood. "I live in this neighborhood and I wanted to bring true Houston and Texas institutions to this location," Moody said. "I wanted a mix of casual family dining, fine dining and grab-and-go options for the community."
Not only has Masraff's recently opened its doors in Moody's development, The Plaza includes Texedelphia and Treebeards and more offerings are to come including Milk & Cookies, their first location outside the loop, and Belong Bakery and Pantry, a nonprofit bakery with grab-and-go family-sized meals and employs adults with intellectual and developmental disabilities.
"Belong Bakery and Pantry and the other food institutions within Moody Towers are really the heart of this development," Moody said.
Phase II well-defined
Arch-Con is in the middle of Phase II construction which includes the construction of the second office building. Moody is also planning the build-out of a 20,000-square-foot town hall
and conference center. This venue is located on the bottom floor of The Plaza which can hold up to 1,200 people.
With the success of Phase I, Moody has the capability to select the tenant mix for building two. They are currently working to bring a two-floor tenant and another full floor tenant to the second tower, but has a single tenant for the entire building kicking the tires as well.
Moody reflects, "I hope and I think we are making a great contribution to the local neighborhood and the entire community."
Learn more about Village Towers here.