Bridge Point Vernon Redevelopment Now Under Construction
Arch-Con® Corporation opens Los Angeles Office
LOS ANGELES (June 11, 2019) — A 117,360 square foot, state-of-the-art industrial facility is now under construction in the heart of the predominantly industrial city of Vernon, California, just south of downtown Los Angeles. Located at 4224 District Blvd., Bridge Point Vernon is a redevelopment by Bridge Development Partners and built by general contractor Arch-Con Corporation.
"Most industrial facilities have been built-out for decades in Vernon," Brian Wilson with Bridge Development Partners said. "This redevelopment will bring much needed new construction where little land is available." Bridge focuses on supply-constrained industrial markets, much like Los Angeles county where there is only one percent of industrial vacancies. Wilson opened Bridge's Los Angeles office in 2015 and, since then, has undertaken nearly two dozen projects totaling over 11 million square feet.
Designed by Herdman Architecture + Design, the building will have such efficiencies as 16 dock- high doors, driver's side dock door access, truck circulation and competitive utility rates. The building will also have 5,000 square feet of mezzanine office space and a 145-foot secured truck court.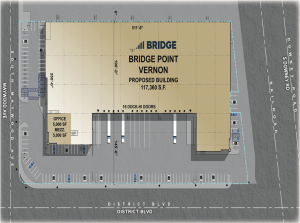 Embracing Redevelopment Quirks, Like Frozen Soil
The balance of conscientious demolition and redevelopment comes with unique challenges and Bridge Point Vernon is no different. The original seven-story, cold storage building was built in the 1920s, insulated with cork and was no longer operationally efficient. During demolition, not only did the cork materialize to dust due to its age, it was discovered that the decades of a freezer facility on this sunny California soil froze the ground up to 35 feet deep.
"It is unheard of to have frozen soil in this area, let alone 35 feet deep," Wilson said. "The Arch- Con team painstakingly excavated the soil to allow it to thaw, put it back and we are back in business."
Arch-Con Builds Bridge Relationship as Los Angeles Office Opens
Bridge Development Partners was founded in Chicago in 2000 and Arch-Con Corporation was founded in Houston in 2000. Both have expanded to various geographic markets throughout the years and, most recently, Arch-Con took root in Los Angeles.
"This project is a great milestone for our team as it kickstarts our presence in Los Angeles and our relationship with Bridge." Jeremy Huber, project executive with Arch-Con said. With 20 years of experience in the Los Angeles area, Huber has built projects exceeding $50 million.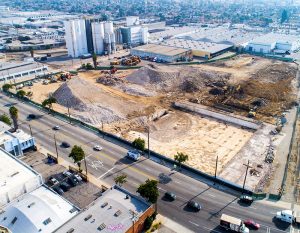 He is well-versed in preparing industrial and office building construction budgets from concept to delivery.
"We are happy to have Huber on our team and bring our progressive construction practices and business model to the greater Los Angeles area," Arch-Con President Jason Cooper said, who is no stranger to working in California. Cooper supervised the major restoration of the storied San Ysidro Ranch from a construction perspective after Ty Warner acquired the Ranch in 2000.
Bridge Point Vernon is expected to deliver in the Fall of 2019. The leasing agents for this speculative space are Scott A. Heaton and Connor McRae with Colliers International.