Team erects industrial project using innovative steel design
Beams vs. Joists: A case study in solving current construction delays
HOUSTON (July 27, 2021) – When commercial general contractor Arch-Con® Corporation began preconstruction for the eighth and final industrial building within Hines' 110-acre Grand National Business Park in Northwest Houston, the team was faced with a long 10-month delivery delay to receive critical structural steel roof framing material. Pre-Covid, Arch-Con built six buildings simultaneously within the same development in less than 12 months. Therefore, a contracted eight-month construction schedule for a 220,000-square-foot tilt-wall build-to-suit warehouse facility for Elliott Electric Supply had a major time challenge.
"We weren't going to take 'delay' for an answer," said Arch-Con Senior Superintendent Joe Froyd. "In the unforeseeable future, material delays were going to be the norm, so we simply needed to figure out another way."
The de-facto standard to frame industrial buildings is to erect steel tube columns with steel joist and joist girders at the roof. The exterior perimeter is load-bearing, concrete tilt-wall panels. Nationwide, steel joist and joist girders have been deeply delayed because only two manufacturers dominate this niche market and their capacity was affected by COVID. This supply problem was compounded by an unprecedented volume of orders. "The two joist manufacturers are over capacity, over-booked and they're pumping out as many joists as they possibly can," said Matt Postel, president of Postel Companies which fabricates and erects steel for the commercial and industrial market. "Supply currently cannot keep up with the extreme demand and the problem will not resolve any time in the near future."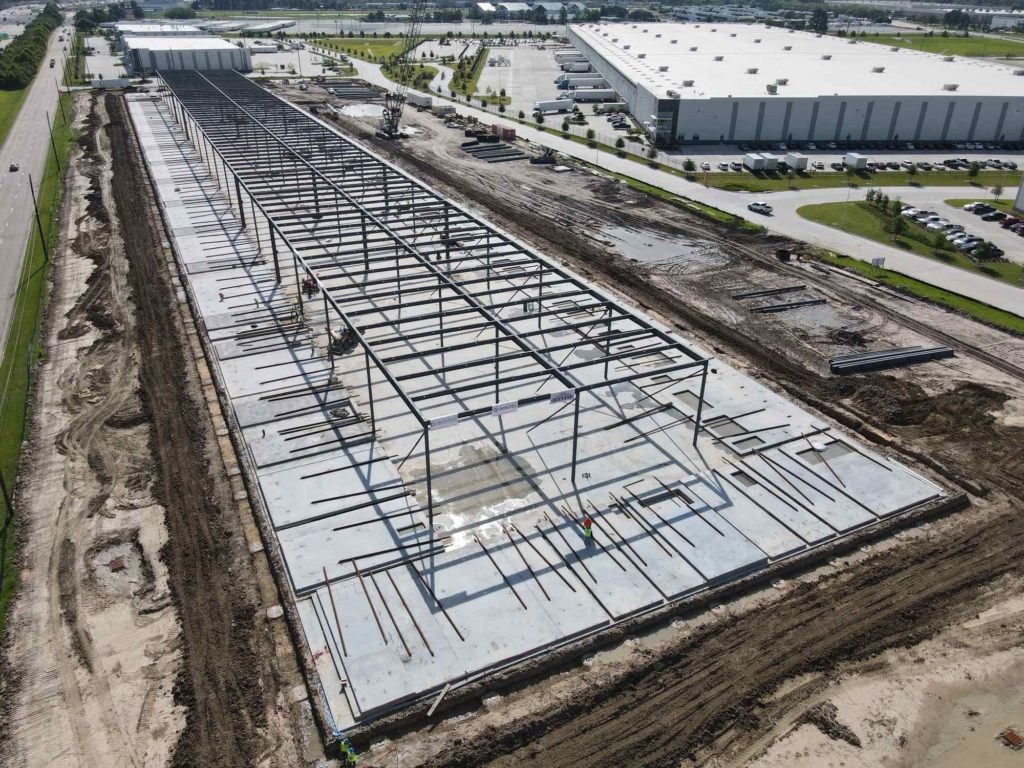 Arch-Con and Hines brought a key, collaborative team together including Founding Principal Don Greive with Pinnacle Structural Engineers and Postel to solve a critical problem: How can we build an industrial building when steel joists and joist girders are simply not available when we need them?
There are many steel mills across the country that produce wide-flange steel beams, a different framing application that is often used to construct elevated floors in buildings rather than roof structures. Albeit wide-flange steel beams are heavier in weight, the recent price spike in steel joist and joist girders coupled with extremely long lead times have resulted in steel wide-flange beams being a better value than steel joists and joist girders.
"With Elliott, we thought about other options for the roof framing," Greive said. "We saw wide-flange beams as a possibility. By going to a deeper deck, we were able to space the beams out further than joists to partially offset the additional weight of the beams. We went back and forth with Postel to make sure we were optimizing the design as much as possible. We knew there would be a time savings, but with market conditions, we were also able to get a cost savings."
"This is a no brainer," Froyd said. Arch-Con's recommendation, Hines' agreement and decisiveness to release the beam material and roof decking early coupled with the fast-paced design collaboration between Postel and Pinnacle, Arch-Con is currently tracking ahead of schedule. "This is unheard of in the long-lead market that we are currently building in."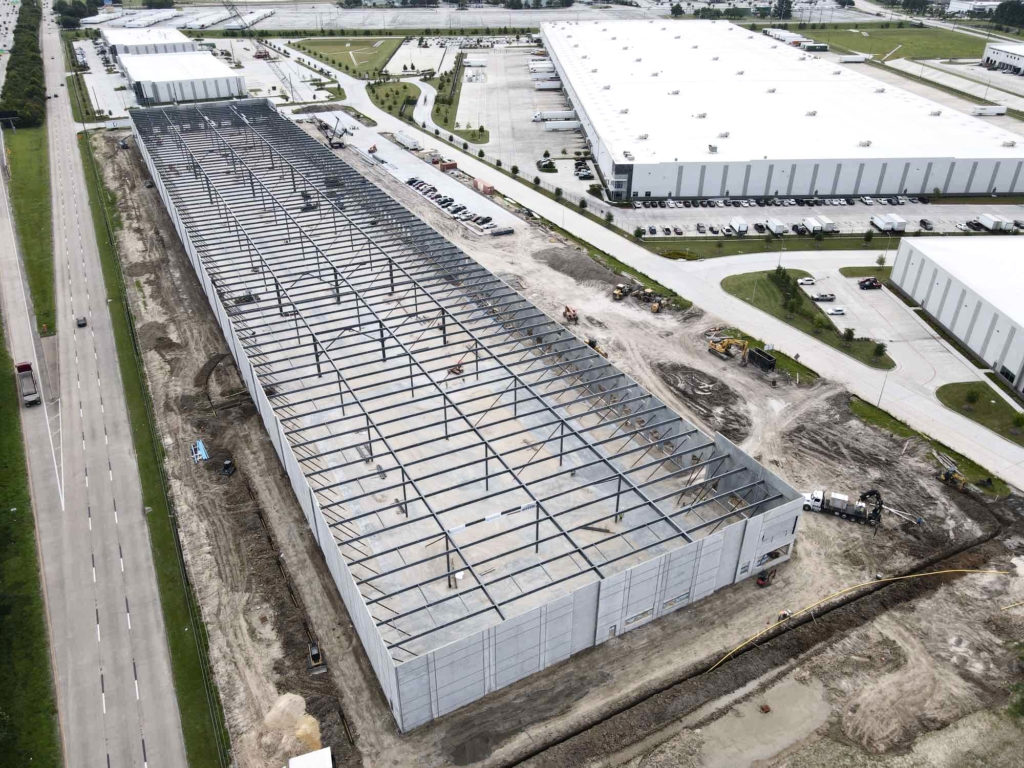 "Elliott Electric is the first warehouse/distribution project erected that I know of using this innovative design," Postel said who provides steel to contractors nationwide. "Now, I estimate that tens of millions of square feet have transitioned to using this method."
Wide-flange steel beam delivery times have now grown due to this demand but Greive said that with almost every industrial project he is currently working on he is doing a study to price joist vs. beam. Wide-flanged beams can be spaced 14 feet apart in industrial buildings, so this span can be leveraged and adjusted based on the project's size and budget.
"We are continuing to tweak and finetune the solution as lead times and prices evolve and stabilize," Postel said. "But this overall method is still the best option from a cost and lead-time perspective."
Froyd agrees. He said there are benefits to this design, including the reduction of the overall construction cost of a project. "With this design, you can save on concrete as the average height of the overall building can be reduced 6 to 12-inches," Froyd said. "Therefore, the overall cost savings is currently $1-$2 per square-foot."
"We are thrilled with the collaboration that took place as innovation is a key part of Hines' culture. The outcome is a noteworthy way to complete Grand National Business Park and most importantly is a functional success for Elliott Electric," said Laura Denkler, Managing Director for Hines.
"We like to collaborate with the best in the business to find solutions whether short-term or long-term," Froyd said. "And this team didn't just accept a challenge, they pioneered an industry-wide solution."
The project designed by Powers Brown Architecture started construction in April 2021 and completed construction December 2021. Learn more about this and other industrial projects here.